otac / father: BARCHAT MAKO-L-ALA
3 x CAJC, 21 x CAC, 10 x res. CAC, 6 x res. CACIB, 8 x CACIB, 10 x BOB, INTERCHAMPION , Youth Champion SLOVAKIA, Champion SLOVAKIA,
Grandchampion SLOVAKIA, Champion of POLAND, Champion of AUSTRIA, Candidacy CH HUN, Sredoevropský vítìz, Club winner of Austria, Club winner of Slovakia.  

HD AA, ED 00
majka / mother: BAYBURI SHANDI ZHAMAL 
3 x CAJC, 6 x CAC, 2 x CACIB, 2 x BOB. Champion of SERBIA, Youth chapmion of Club of the Russian breed of SERBIA.
HD BB, ED 00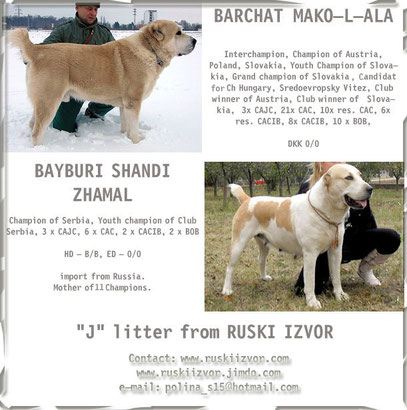 JEKIMEN IZ RUSKOG IZVORA - NAJLEPSA BEBA EVROPE 2012! POBEDNIK BABY BEST IN SHOW!!!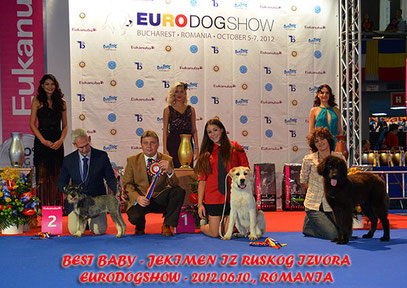 ---