In  the  litter  -  8 puppies  ( 4 males  and  4  females )   
---
Personale page of parents / Pogledajte strane roditelja: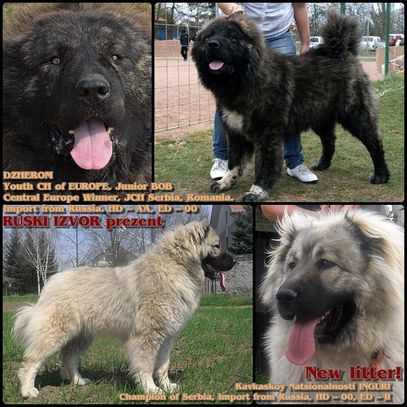 Father / Otac:: DZEROM
5 CAJC, 4 CAC, 5 BOB, BOG 1, BOG 2, BOG 3.
HD - AA, ED - 00
YOUTH CHAMPION OF EUROPE & JUNIOR BO EUROPE - 2012 !!!
CW CAC WORLD DOG SHOW 2013 - 2.place for the best male of the World!
YOUTH CHAMPION OF ROMANIA
YOUTH CHAMPION OF SERBIA
YOUTH WINNER SLOVAKIAN CLUB SKAaRO & YOUTH WINER OF CENTRAL EUROPE  (SREDOEVROPSKI VITEZ MLADIH)
CHAMPION OF SERBIA
CANDIDATE OF INTERCHAMPION
Uvezen iz Rusije, g. Ekaterinburg. Potomak slavnih Uralskih pasa: Kunak (inbreeding 2-3), Arch, Matrona, Martan, Tshneti. Po majci nosi krv odgajivacnica "Stolica Sibira", "Ruski Medved", "Svetli Dom", "Akmenu Gele".
---
Uvezena iz Rusije u januaru 2011.
Kcerka jedog od najtitulovanijih kavkazaca Rusije - VARLAKA, Intersampiona, Grand Sampiona, 7 x Sampiona NKP KO, Sampiona Rusije, Poljske, Ukrajine, Belorusije, Pobednika Nacionalne izlozbe "Kavkaski ovcari Rusije-2004", Mladog sampiona Rusije, NKP, Mladog pobednika Nacionalne izlozbe "Kavkaski ovcari Rusije - 2003", Najboljeg priplodnjaka po izboru NKP KO. Majka INGURI - Shikarnaya Shtuchka Kavkaskoy Natcionalnosti - Sampion Rusije, Mladi sampion NKP KO, Mladi sampion Rusije.